Investment Focus
Invest in startups that utilize technology to digitalize and transform the real estate industry
In South Korea, proptech companies began to enter the market from the late 2000s to early 2010s. Proptech is becoming an increasingly important part of the real estate industry and is rapidly expanding across the entire value chain.
While proptech in South Korea began in the form of property platforms, it is evolving to include sectors such as con-tech, asset management, B2B SaaS, and smart mobility. Our investment team seeks to identify and collaborate with the next generation of changemakers.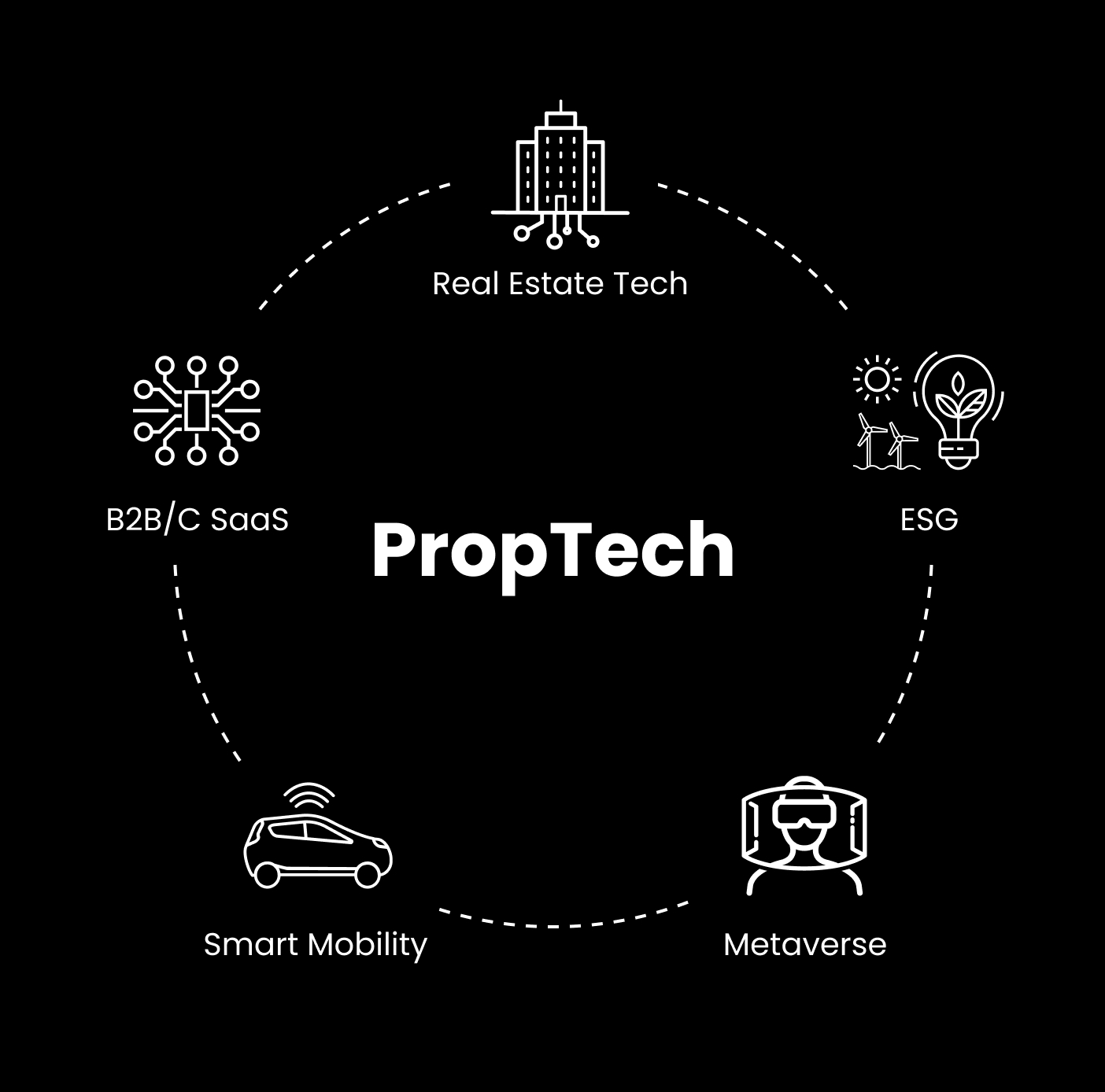 Real Estate Tech
Many companies are redefining the value of traditional spaces by adding new elements and technology. Our team identifies and invests in startups that repurpose residential/commercial spaces and suggest new business models to generate additional value. Examples of Real Estate Tech include shared economy models, O2O platforms, fulfilment services.

B2B/C SaaS
Rapid digitalization is occurring across all industries, especially with the onset of the COVID-19 pandemic. Our team seeks to invest in startups that support the digital transformation of all areas rooting from the residential sector including work and lifestyle related sectors. Targeted areas include online workplace solutions, digital tax preparation platforms, digital contract and e-signature services.

ESG
Sustainability and Clean Tech has become increasingly important in driving long-term value. Governments and companies across the globe are seeking ways to incorporate ESG strategies. Our team believes in investing in startups that transform existing spaces to generate sustainable growth. Areas of focus include renewable energy, green mobility, social ventures.

Metaverse
With the introduction of AR/VR technology, the concept of space has evolved to include not only the physical, but also the virtual. Our team believes that the need for remote technology has accelerated across all industries. We invest in startups that provide AR/VR and Digital Twin solutions to consumers and businesses in order to increase performance, convenience and efficiency.